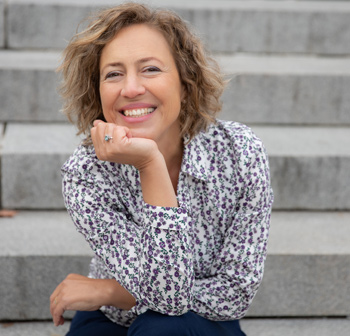 About Sylvia Larrass
Making you shine is my passion!
What motivates me every day is helping leaders like you bring out their bold ideas with confidence so they can empower and inspire others.
Over the past 20 years, I've coached and trained over 7000 professionals across Canada, the US,  South East Asia and Europe in voice, public speaking, communication and leadership skills. From CEOs to politicians, public servants of all levels, scientists, entrepreneurs, among others, I've helped leaders take their communication from unassuming to impactful. 
Having grown up in Europe and worked internationally, I understand that leadership and communication challenges are universal, and that to overcome them means drawing upon your own innate strengths.  
This is where I come in. As a coach and trainer, I simply facilitate your learning process by listening to your needs and by sharing valuable tools.  I owe many of the coaching and training techniques I've perfected over the years to my background in the performing arts.  Just like performance, communication is all about connection. Just as a performer, a leader creates an image in people's hearts and minds that can inspire.
Recently, my journey has taken me to becoming a Certified Coach (ACC), in order to offer even more value to my clients. I am now credentialed with the International Coaching Federation (ICF).
I'm a certified leadership facilitator through DDIWorld and also hold degrees from the University of British Columbia and the Royal Conservatory of Music.
After all these years, I still love to share my expertise at conferences, online, in workshops and through blogging. As a classically trained singer, performing keeps me in touch with varied audiences and the need to keep communication fearless and real. 
If you are a leader with a vision who is seeking transformation for yourself, your team, your organization – and even beyond –  I look forward to being a part of your journey.
"Sylvia is gifted at what she does…I can't recommend her highly enough!"